Michele
Tabor Kimbrough
ARTIST BASED IN FLORIDA, USA
Former Army Helicopter and Airplane pilot turned artist; Michele Tabor Kimbrough has been creating art for over 25 years. Since the devastation from Hurricane Michael to her hometown and to her shop in Marianna FL, October 2018, Michele has been working as a full-time artist.
Michele's current body of work is from her travels to St. Croix during their annual Christmas parade. Her goal is to immerse herself in the American culture capturing our way of life.
Michele's training in her painting mediums (watercolors, acrylics, & oils) has been a life long journey through workshops, books, and videos by national and international artists. Even today, she attends different workshops honing her skills.
Michele maintains memberships with many art societies, art centers and museums and is the President of Southern Watercolor Society. She is also Signature Member of Georgia Watercolor Society, Kentucky Watercolor Society, Watercolor Society of Alabama, and Tallahassee Watercolor Society. Membership in these organizations provides Michele a platform of continual professional development.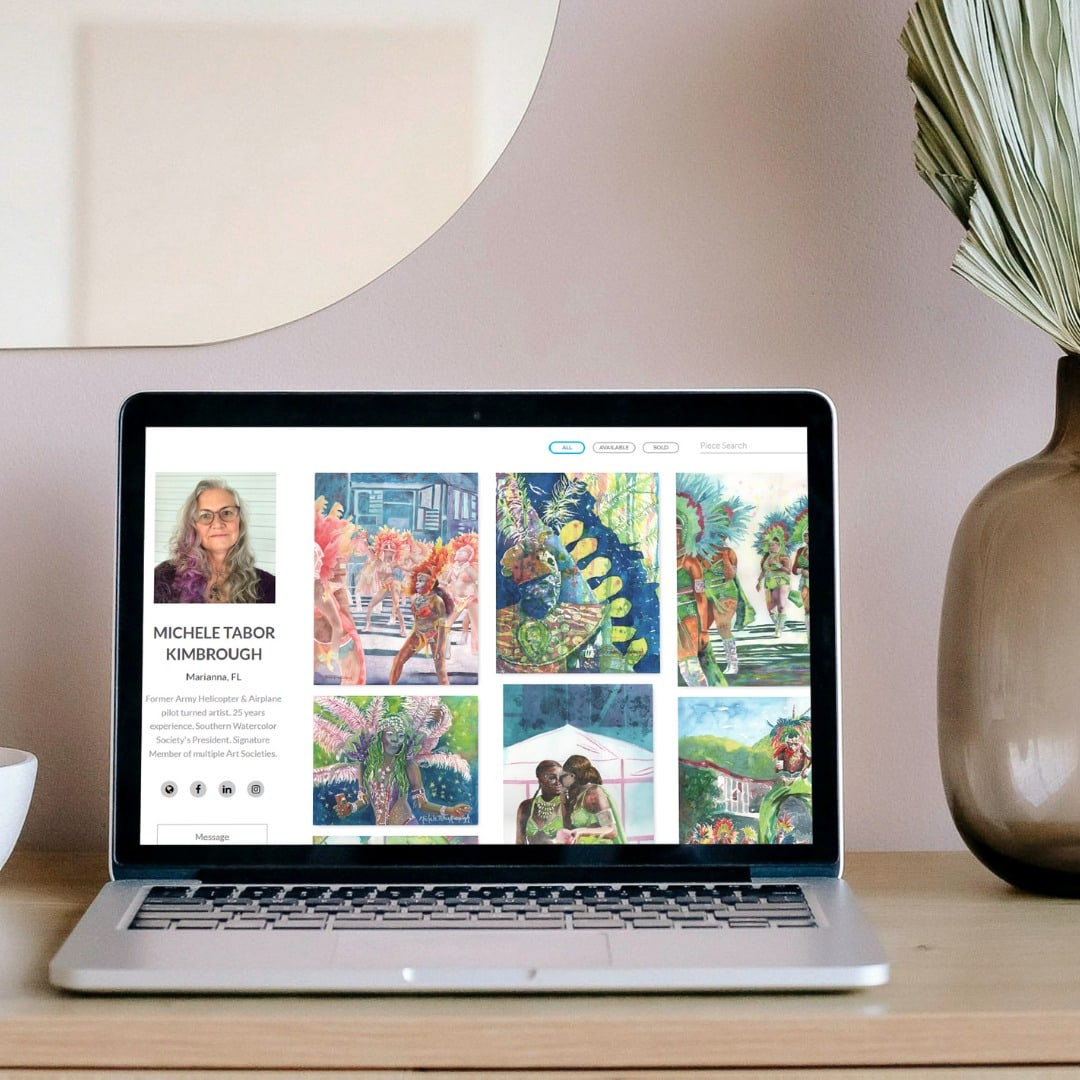 Portfolio Artwork Archive
Explore the wide selection of past and current work. The portfolio website will help you find all current work that is available for purchase, in shows, and sold work. If you have questions, please contact the artist.
Curriculum Vitae
Michele Tabor Kimbrough
Education
25 Years professional development with master artists, such as; Paul Jackson – AWS, NWS; Pat Dews - AWS, DF, NWS; John Salminen - AWS, DF, NWS; David R. Smith – AWS, NWS; Alexis Lavine – NWS; Kathleen Conover – AWS, DF, NWS, ISEA; Tom Lynch – NWS
President of Southern Watercolor Society
Signature Member of Georgia Watercolor Society (GWS)
Kentucky Watercolor Society (KWS)
Watercolor Society of Alabama (WSA)
Tallahassee Watercolor Society (TaWS)
Collections

Public - Jackson County Health Department, Marianna, FL. – 3 watercolor paintings reflecting this community: "Homecoming Parade", "Downtown Parade", and "View from the Russ House"
Solo Shows

October 2021 - The Joe Center for the Arts, Port St. Joe, FL
September 2021 - Panama City Center for the Arts, Panama City, FL
Awards
April 2022 - Patron Award, Watercolor Society of Alabama, 81st National, "Freedom to Fly"
March 2022 - 1st Place Award, Kentucky Watercolor Society, AquaVenture, "Troupe Hostess Kali – Crucian Carnival Series VI"
November 2021 - Honorable Mention, Watercolor Society of Alabama, National Showcase 2022
May 2021 - 1st Award of Excellence, Tri-State, TaWS, "Phoenix Rising"
March 2021 - 2nd Place Cash Award, Kentucky Watercolor Society, AquaVenture "Queen Agnes – Crucian Carnival Series"
January 2020 - Merit Award, FWS Non-Signature Online Exhibition, "Queen Mary – Crucian Carnival Series"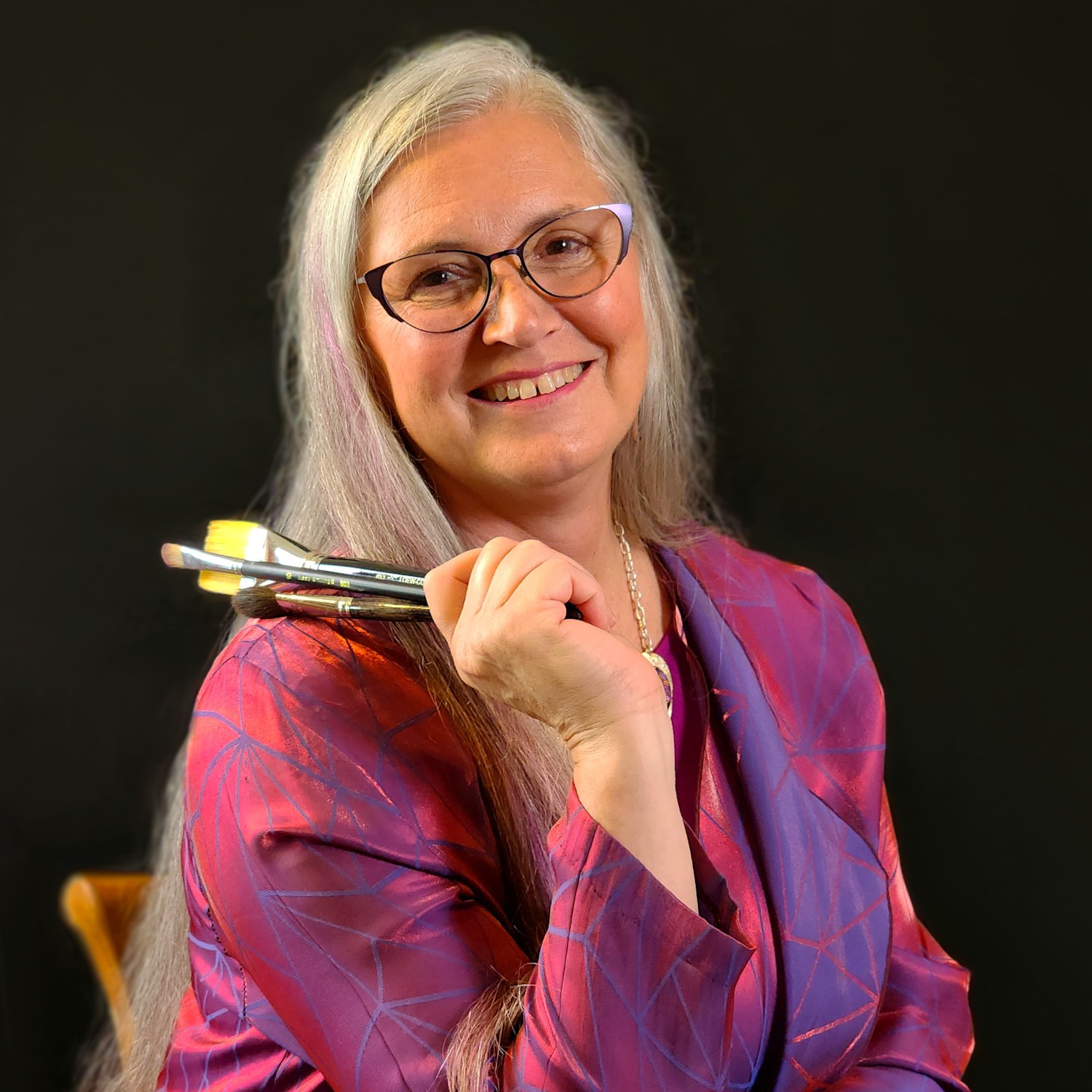 Group Shows
May 2022 - Louisiana Watercolor Society (LWS)
April 2022 - Georgia Watercolor Society Exhibition, National, Prev. Yrs: 2021, 2020, 2018
April 2022 - Watercolor Society of Alabama, Prev. Yrs: 2022, 2021, 2020, 2019
April 2022 - Northwest Watercolor Society (NWWS)
April 2022 - Philadelphia Watercolor Society, Prev. Yrs: 2020, 2018
April 2022 - Southern Watercolor Society (SW) Prev. Yrs: 2019
March 2022 - Watercolor Society of Houston (WAS-H)
March 2022 - Kentucky Watercolor Society (KWS) Prev. Yrs: 2022,2021, 2020, 2019
March 2022 - National Watercolor Society (NWS) Members Show
January 2022 - Florida Watercolor Society Non-Signatured Members Online Show. Prev. Yrs: 2021, 2020, 2018, 2012, 2011
November 2021 - Watercolor Society of Alabama, Prev. Yrs: June 2021, 2020, 2019
August 2021 - Georgia Watercolor Society Exhibition, National, Prev. Yrs: 2020, 2018
August 2021 - Kentucky Watercolor Society (KWS) Prev. Yrs: 2021, 2020, 2019
August 2021 - Georgia Watercolor Society Members Show (GWS), Prev. Yrs: 2020, 2018
July 2021 - Art in Gadsden: Regional Exhibition of Fine Art, Gadsden Arts Center & Museum, Quincy, FL. Prev. Yrs: 2020 to 2008.
May 2021 - Illinois Watercolor Society (IWS)
May 2021 - Tri-State, Tallahassee Watercolor Society (TaWS), Tallahassee, FL. Prev. yrs: 2019, 2018, 2017, 2013, 2012.
May 2021 - Panama City Center for the Arts, Bay Annual Competition & Exhibition, Panama City, FL. Prev. Yrs: 2019, 2018, 2014 to 2011.
October 2020 - 65th International Bold Expressions 2020, Northern California Arts Inc., Sacramento Fine Arts Center, Carmichael, CA.
September 2020 - Brush Strokes, Tallahassee City Hall, TaWS, Tallahassee, FL. Prev. Yrs: 2019, 2018, 2017, 2015 ,2013, 2011 to 2008.
August 2020 - Mattie Kelly Arts Center Galleries, Northwest Florida State College, Prev. Yrs: 2012
July 2020 - Creative Tallahassee Online Gallery, CoCa Tallahassee
March 2020 - Philadelphia Watercolor Society, 2018